March
12th
2014
Virago is delighted to announce that Linda Grant's new novel, entitled Upstairs at the Party, will be published this summer on July 3rd.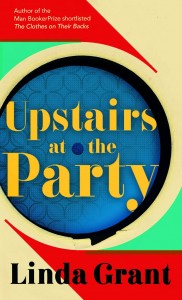 Upstairs at the Party is a powerful and captivating novel about the moments and secrets that shape all our lives. In the early seventies a glamorous and androgynous couple known collectively as Evie/Stevie appear out of nowhere on the isolated concrete campus of a new university.
To a group of teenagers experimenting with radical ideas they seem blown back from the future, unsettling everything and uncovering covert desires. For Adele, with the most to conceal, Evie especially becomes a lifelong obsession, as she examines what happened on the night of her own twentieth birthday and her friends' complicity in her fate. A set of school exercise books might reveal everything, but they have been missing for nearly forty years.
From summers in 1970s Cornwall to London in the twenty-first century, long after they have disappeared, Evie goes on challenging everyone's ideas of what their lives should be.
Comment on This Article
Please N.B. - All comments will be pre-moderated before they are shown on the site, so there may be a short delay before you comment appears.