March
15th
2017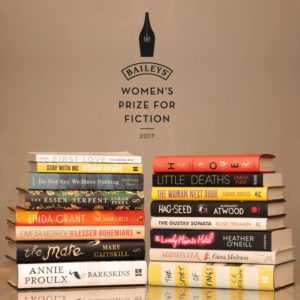 We are delighted to announce that Linda's THE DARK CIRCLE has been longlisted for the 2017 Baileys Women's Prize for Fiction. The shortlist is announced on the 3rd April @BaileysPrize #BaileysPrize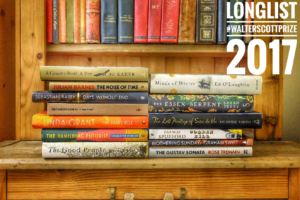 And more good news, THE DARK CIRCLE has been longlisted for the Walter Scott Prize for Historical Fiction 2017. @waltscottprize #WalterScottPrize
---
December
8th
2016
Sunday, 5th March

2.00pm Jewish Book Week Feisty Fictions
Linda Grant in conversation with Sarah Moss, chaired by Erica Wagner
Linda's Grant's sparkling new novel, The Dark Circle, is set in 1950, two years into the NHS, revolving around a TB sanatorium in the Kent countryside, where the East End Lynsky twins are the only Jews. It has been described as 'drenched in colour and light'; and is at once very funny and heart-breaking, offering a penetrating vision of the swiftly changing landscape of the post-war era.
Sarah Moss's courageous and unflinching novel of ontemporary life, The Tidal Zone, explores parental love, overwhelming fear, illness and recovery. It is about clever teenagers and the challenges of marriage. It is about the NHS, academia, sex and gender in the twenty-first century and confirms Moss as a writer of luminous intelligence. They talk to journalist and broadcaster Erica Wagner.
Please use #jbw20017 and @JewishBookWeek
Kings Place, Hall 2, 90 York Way, Kings Cross, London N1 9AG
Event link: http://jewishbookweek.com/events-new/linda-grant-and-sarah-moss-feisty-fictions
Ticket link: http://www.kingsplace.co.uk/whats-on/spoken-word/feisty-fictions-linda-grant-sarah-moss#.WJxb1m-LSUl
Saturday, 27th May
8.15pm Charleston Festival
In conversation with Kathryn Lougheed
Charleston
Firle
Lewes
East Sussex
BN8 6LL
Festival tickets go on sale Monday 20 February 2017.
Festival Link: http://www.charleston.org.uk/whats-on/festivals/thecharleston-festival/
---
December
8th
2016
Fantastic review have come in for Linda's latest novel, The Dark Circle
'Exhilaratingly good… This is a novel whose engine is flesh and blood, not cold ideas… Grant brings the 1950s – that odd, downbeat, fertile decade between war and sexual liberation – into sharp, bright, heart-breaking focus'- Guardian, Christabel Kent
'The Dark Circle is a fine novel, and further proof that Grant can conjure up a special mood in a specific period, with great humour and humanity' – Telegraph
'In clear unadorned prose, Grant does a fine job of encouraging us to find joy in the small pleasure of these diminished lives' – The Financial Times
'The Dark Circle is a compelling tale' – Sunday Express
'Linda Grant weaves a series of deft portraits, capturing the spirit of the group as it wavers on a precipice' – TLS
'A rich, engaging novel, further proof that Grant can conjure up a special mood in a specific period with great humour' – Sunday Telegraph
'It really is an amazing subject, wonderfully depicted in its setting, with plausible people whom I grew to love…and the most amazing plot developments. So original and full of life. For someone who remembers those days it was totally plausible…. – Joan Bakewell
'Linda Grant's The Dark Circle is an extraordinary depiction of the physical and emotional experience of illness. She marvellously communicates the poignancy of youth and sexuality in the presence of impending death. Grant's voice is unlike any other writer; so immediate and engaged even when writing historical fiction' – Natasha Walter
'…refreshingly original' – The Independent
'The Dark Circle feels personal to me….an enthralling cast….Grant captures the stigma that surrounded TB perfectly. The Dark Circle shows us why
it was once so feared' – Evening Standard, Rosamund Urwin
'…a writer whose language crackles with vitality and whose descriptive powers are working at such a high level' – Spectator, Susan Hill
'Linda Grant brings a forgotten slice of social and medical history to life by conjuring a rich cast of disparate…characters observed with wry humour and affection to produce an absorbing and profoundly moving story' – Daily Mail, review, John Harding
'The Dark Circle is, beneath its narrative surface, fiercely political. She poses a large, naggingly relevant, question. What would (will?) privatisation of the NHS mean? Read this fine, persuasive, moving novel and contemplate — if you can dare to — that awful possibility' – Times, John Sutherland
'…thoroughly researched, with an emphasis on authentic historical detail' – Sunday Times
'The novel is funny but also poignant…I loved it' – Stylist
'The Dark Circle is an immensely enjoyable and beautifully written book, filled with humour and pathos'- Literary Review, Ian Critchley
'Grant's take on sanatorium life is a far cry from Mann's The Magic Mountain or its romanticised ilk, and this makes for refreshingly original reading … an astonishingly good period piece' – Independent, Lucy Scholes
'A revealing insight…both funny and illuminating, it is a novel about what it means to treat people well, medically, emotionally and politically'
– Observer, Hannah Beckerman
'…she's so good at conjuring up atmosphere and writes with earthy vivacity' – Mail on Sunday, Anthony Gardner
' As a work of social history it is brilliant… and many of the characters are exciting and involving and I love the end' – Melissa Harrison
'The Book is full of gem-like moments' – Rosie Boycott
---
May
19th
2014
What happens when you begin to build a library in childhood and then find you have too many books? From a small collection held together by a pair of plaster of Paris horse-head bookends to books piled on stairs, and in front of each other on shelves, books cease to furnish a room and begin to overwhelm it. At the end of 2013, novelist Linda Grant moved from a rambling maisonette over four floors to a two bedroom flat with a tiny corridor-shaped study. The trauma of getting rid of thousands of books raises the question of what purpose personal libraries serve in contemporary life and the seductive lure of the Kindle. Both a memoir of a lifetime of reading and an insight into how interior décor has banished the bookcase, her account of the emotional struggle of her relationship with books asks questions about the way we live today.
Download 'I Murdered My Library' from Amazon now: http://www.amazon.co.uk/Murdered-My-Library-Linda-Grant-ebook/dp/B00K6JO15A/ref=sr_1_1?s=digital-text&ie=UTF8&qid=1400499877&sr=1-1&keywords=linda+grant
---
March
12th
2014
Virago is delighted to announce that Linda Grant's new novel, entitled Upstairs at the Party, will be published this summer on July 3rd.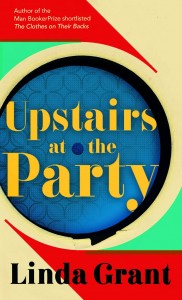 Upstairs at the Party is a powerful and captivating novel about the moments and secrets that shape all our lives. In the early seventies a glamorous and androgynous couple known collectively as Evie/Stevie appear out of nowhere on the isolated concrete campus of a new university.
To a group of teenagers experimenting with radical ideas they seem blown back from the future, unsettling everything and uncovering covert desires. For Adele, with the most to conceal, Evie especially becomes a lifelong obsession, as she examines what happened on the night of her own twentieth birthday and her friends' complicity in her fate. A set of school exercise books might reveal everything, but they have been missing for nearly forty years.
From summers in 1970s Cornwall to London in the twenty-first century, long after they have disappeared, Evie goes on challenging everyone's ideas of what their lives should be.
---